Cloud Based VS Local Based
Things you should know before choosing a smart home system
Our locally hosted, cloudless technology sets us apart from the competition with fast, lag-free controls and zero risk to your privacy and security, guaranteed.
Not all smart home systems are the same
Over the past few years, hundreds of new companies have entered the smart home market. These companies range from small boutique specialists to gigantic behemoths like Google and Apple. Some of these companies 'lock down' their smart home systems so that once you start with them, you have to continue with them for all future purchases.
Ask your vendor if the system they are proposing is proprietary to one specific company. If you do not want to be limited to a specific company for all future expansion of your system, you will want to ensure that you are purchasing a system that is 'platform agnostic', this will give you more flexibility and protect your investment.
Many manufacturers are lowering their costs by using cloud-based only services
Cloud based services are great, they eliminate the need to invest in hardware, thus reducing the upfront investment for homeowners. However, they collect vast amounts of information on you and your home and this comes at a potential hidden 'cost' to the consumer;
They are not necessarily using the cloud to save YOU money
Although it may appear that they have your best interest at heart by eliminating some nominal costs of hardware in favor of cloud-based, you need to know what you are signing up for. Many cloud-based services may look like they are free, but they are paying for the energy to power their servers somehow. Be sure to read the vendor's privacy policy very, very carefully. Ask the question 'who owns the personal information and data that the system records'? Some companies (not all) do sell user data to 3rd parties.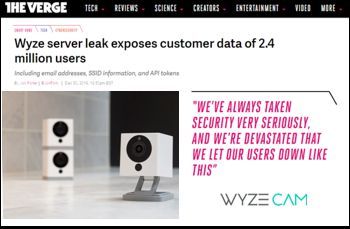 Some don't need to be hacked, they just leak your information
Companies are becoming better at securing their cloud services, but when a mistake is made, you, as a consumer have very little recourse and once your information is in the public domain, there is nothing you can do to remove it.
Literally left in the dark
If the service provider shuts down, you may not be able to turn on your lights or unlock your doors. The smart home market is flooded with stories about smart home products that work fine for years suddenly stopping due to companies discontinuing their cloud-based services. And it's not just the little guys, large companies like Google, and US-based super retailers Best Buy and Lowes have all shut down their servers, rendering millions of their customer's smart home investments completely useless.
The Bottom Line…
Know what you are getting yourself into. Know that you have an option to protect your privacy whilst still enjoying all the features of an intelligent, smart home automation system. You can choose a vendor that provides:
• A smart home system with its own infrastructure. This will protect you against service shutdowns.
• Solutions powered by a single, easy-to-use platform. This helps you conveniently control your smart home at all times from one interface.
• Consistent product testing. This ensures seamless integration and compatibility within the ever-evolving smart home market.
Fortunately, Avario has its own infrastructure, which protects the homeowner from uncontrollable vendor changes. Our system is secure, does not use cloud-based services, and is controllable —all from a single platform. Our products are consistently tested to ensure seamless integration and compatibility within the smart home ecosystem. This allows our Home Automation app to withstand evolving technology. This is why you can rely on us to curate, support, and unify the best home automation products on the market for a great experience—every time.